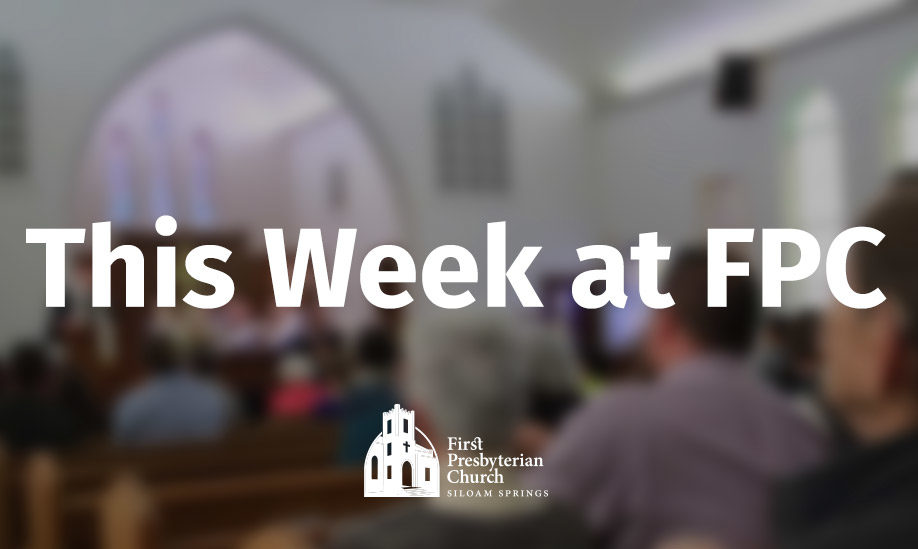 24 Nov

This Week at FPC

Thanksgiving Schedule
There will be no programming the week of Thanksgiving. Women's Bible study (Nov. 23), Family Gathering, Evening Office, and choir (Nov. 24) will not meet. There will be no Sunday school or Youth Group on Nov. 28. 

The church office will be closed Monday, Nov. 22 – Friday, Nov. 26. 

NWA United Seminar

The NWA United Commission invites you to attend a seminar, "The NWA United Challenge: A Little Historical Context on Racial Justice, and Why we Should care,"  on Saturday, December 4, from 9:00-11:45 a.m. at FPC, pizza and fellowship to follow. Presenters include Trisha Posey, James Cooke, Isaac Fuller, and Miguel Rivera. Come have your questions regarding the NWA United challenge answered and be inspired to get involved. Questions may be submitted anonymously ahead of the seminar by filling out a card and dropping it in the question box at the main entrance to the church. Please register so we can plan. 

Annual Church-wide Advent Wreath & Scroll Event
Everyone is invited to join us Wednesday, December 1, at 6:00 p.m. In preparation for the Advent we'll be decorating wreaths to light at home and Godly Play scrolls for families with young children. The church will provide the greenery and refreshments. If you already have a wreath or scroll, you can bring it to refresh and redecorate. If not, you can purchase them through the church on the sign up form. Register your attendance whether you need supplies or not to ensure we have plenty of refreshments and greenery!

Families by Choice Thanksgiving
Families by Choice is a group formed here in Siloam Springs to be with those alone on holidays in particular and at other times during the year. If you would like to join them for Thanksgiving, please RSVP to Jennifer S. Payne (479.220.3776). Folks are welcome to bring a side dish or dessert to share, but that is NOT required. We're meeting at the Glenhaven Counseling office at 500 South Broadway in Siloam at 1:00 p.m. on Thanksgiving Day for a meal and fun activities (games, a movie, etc.).

Advent Sunday School Class
Join Jen each week to walk through Watch for the Light Advent readings during the Sunday School hour. Books are $5 and can be purchased in person on Sunday. Sign up here to help us prepare for the class.

CAC of Benton County

Our ministry partner, the CAC of Benton County, is looking for volunteers to wrap gifts for children and families receiving their services. The day of wrapping is Dec. 3 with morning and afternoon slots. Volunteers can sign up at www.fpcsiloam.com/CAC. They are also accepting donations of wrapping paper. They anticipate needing 100 rolls! If you would like to donate paper, you may drop rolls off at the church.

Coat Drive
Bright Futures is again collecting new winter coats for children within our local school district and FPC Outreach is asking our church to step in and help. This is the 2nd of 3 ways we're asking the church to practice presence in our community this holiday season. Cards will be available for pickup on Sunday mornings or at the church office and will indicate the size and gender to be purchased. Coats may be placed in the Bright Futures bins at each entrance no later than Dec. 1. Contact Chuck Hyde at c4sdad@gmail.com with questions.

Annual Children's Christmas Pageant
The Annual Children's Christmas Pageant is returning! Join us Sunday, December 5, at 5:00 p.m. in the Sanctuary. Refreshments to follow.

Choir Returns
Choir rehearsals are from 7-8 p.m. in the choir room! If you are interested in singing in the choir (returning singers and new singers), please send a quick email to Jen Edwards with your name and what part you normally sing (soprano, alto, tenor, bass). Choir is open to 8th grade through adults.