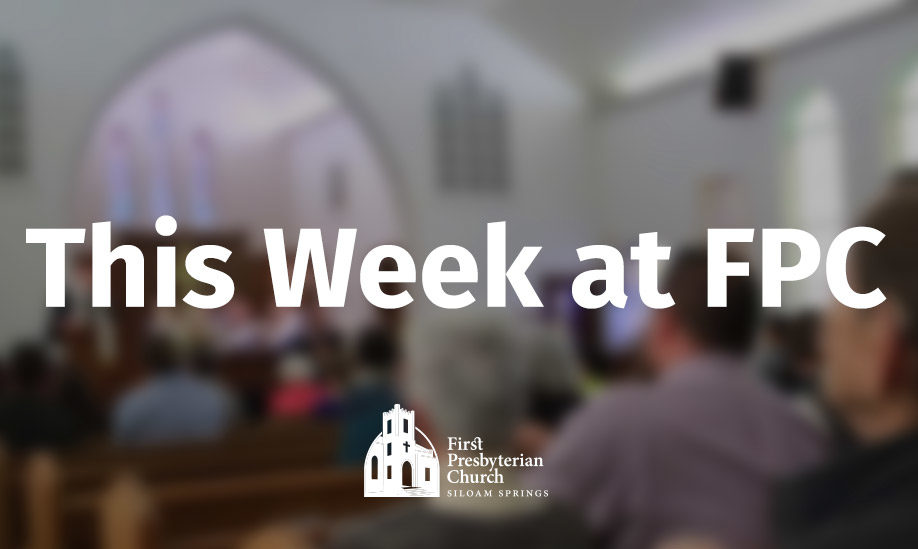 02 Mar

This Week at FPC

Ash Wednesday

Join us today from 6-7 p.m. for an Ash Wednesday service. Family Gathering and Evening Office will not meet, and everyone is encouraged to attend the Ash Wednesday service. Nursery will be provided for children ages 2 and under.  

Sunday Morning Prayer
You are invited to a time of prayer on Sundays from 9:30-10 a.m. during the season of Lent (March 6 – April 10, except March 20). We will meet in the rear of the sanctuary behind the collapsible partition.

Choir Restart
Choir rehearsals will begin again on Wednesday, March 16, 2022!  If you are interested in joining choir, please plan to attend a BRIEF meeting in the choir room on Sunday, March 6, right after the service!  We will talk about format, commitment, music, and address any questions you might have.  See you then!

Easter Eggstravaganza

Save the date for our annual Easter Eggstravaganza on Saturday, April 16 at 10:00 a.m.

Spring Retreat

April 1-2 at New Life Ranch for 5th-12th grade students. Total cost is $75 due at registration. The theme is "in this together." We've heard it a lot during the pandemic, but what is "this" and what does it mean to do it "together?" Maybe it's about more than just a pandemic. Maybe it's how we live life together as a church, globally and locally… and as a youth group right here and now, beyond the platitudes and philosophical, to real life.
Sign up at fpcsiloam.com/springretreat2022

Youth Bake Sale
March 13 in the Elm Room during the Fellowship Time and after Worship Service. The students will be baking delicious treats to raise funds for their upcoming summer events: High School Move Conference, Middle School Mystery Trip. These trips are so important for continuing the growth of their faith and building relationships with one another. Come shop our homemade goodies to support our youth. If you'd like donate goodies as well, contact Dri!