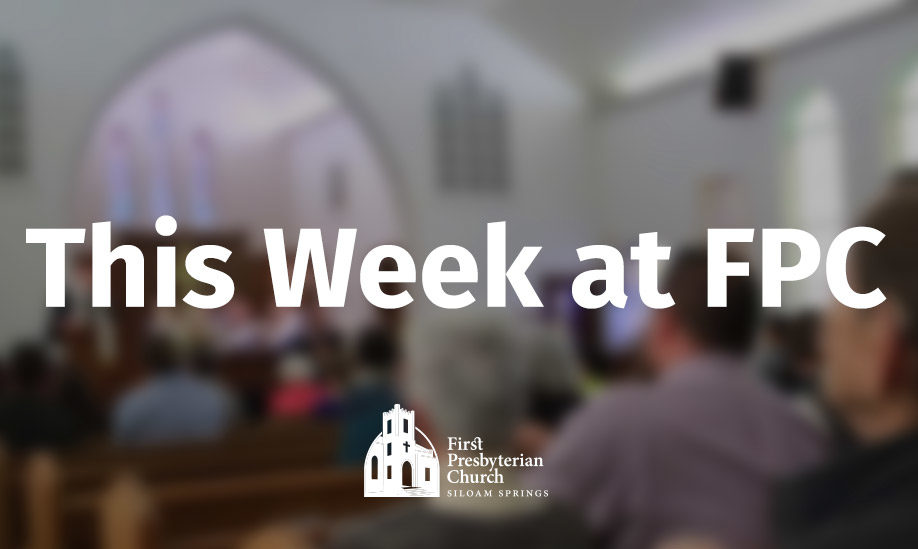 27 May

This Week at FPC

Connor Young
After the service this Sunday, we will host a cake and punch reception to celebrate Connor Young's graduation from seminary. Plan to join us to celebrate Connor!

One-Day VBS

Children finishing Kindergarten-4th grade are invited to join us June 25 from 10:00 am-2:00 pm for a One-Day Vacation Bible School. Together we'll become detectives as we investigate Jesus' parables to solve the mysteries of how to grow in faith, how to care for, serve, and love others. Friends and neighbors are welcome to come too! Please pre-register your kids (and any friends) below. One form per child.

VBS Volunteers needed!
We need a variety of volunteer for our One-Day Vacation Bible School June 25th. From class chaperones to Bible teachers, crafts, games or music, and more! If you would like to help, please sign up at fpcsiloam.com/VBSvolunteer by June 12. You can indicate which roles you're most interested in. Childcare will be provided for children of volunteers in PreK and below. Youth volunteers welcome too! There will be a volunteer meeting after directly after service June 12.

Church Visit Opportunity
You are invited to join a group from FPC who will attend a Spanish language Mass at St. Mary's Catholic Church here in Siloam Springs. As part of our continuing outreach to the Hispanic community we have been invited by Father Salvador to attend a mass and meet some of his congregation. We plan to attend at noon on Sunday, June 12. Please contact Miguel Rivera (mrivera@jbu.edu) if you are interested in attending. We will meet in the FPC parking lot at 11:40 a.m. and drive to St. Mary's.

Pray for our Students
Four of our High School students are attending the Move Conference June 5-9. Would you pray with and for them at this conference? You can visit ciy.com/move/pray for specific prayer prompts. If you'd like to pray for them by name, contact Dri for a tag with their name on it.

Middle School Mystery Trip
Register today for the Middle School Mystery Trip, Aug. 1-4, for students completing grades 5th-8th. The Mystery trip is just that! A Mystery. What we can tell you is that it's local, that it's a chance to trust God and your leaders, and that we're going to have a great time. The total cost is $110 (including a discount from the Youth Bake Sale). A $50 deposit is due by June 5 to hold your spot, and the remainder is due by July 3.

Summer Youth Group

We'll meet at different homes throughout the summer at 6 p.m.

June 12 – Heathcote's House
June 26 – Ellcey's House
July 10 – Himes' House
July 24 – Campen's House

Contract Dri for addresses.

Summer at FPC
We have several family and church-wide events planned through the summer.
June 1: Picnic in the Park – Bring a picnic dinner and join us at the Bob Henry Park for conversations while the kids play. Everyone is invited!
July 20: Pool Party – Join us for an evening swim at the Siloam Family Aquatic Center. We'll have a pavilion reserved for our group. General admission (Age 4 and up – $5, Age 3 and under – $3, free for non-swimmers or season pass holders).
August 10: Game Night – Bring your favorite board games and snacks to share in the church gym. Invite your friends.