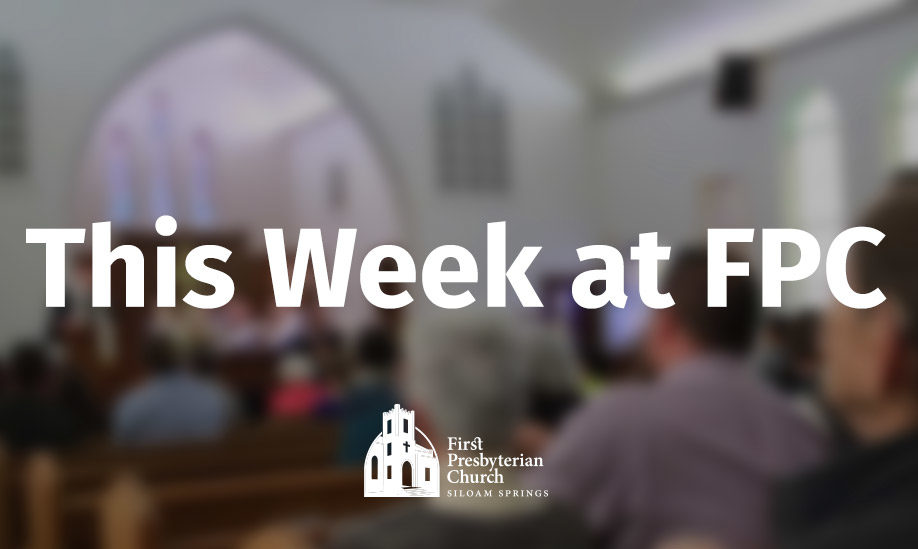 15 Sep

This Week at FPC

EPC Emergency Relief Fund

In response to the devastation of Hurricane Ida in southern Louisiana, as well as the flooding and tornadoes across the Northeast, the Outreach Committee has decided to contribute $1000 to the EPC's Emergency Relief Fund. These donations are sent directly to EPC churches in affected areas for specific, identified needs. 

Individuals can also contribute to this fund directly by following the link below. 

FPC Mission, Vision, Values
If you missed the congregational meeting this past Sunday, here is a PDF of the Mission, Vision, Values that were distributed at that meeting. The sermon from Sunday provided the scriptural support for our Mission statement and the next two Sundays will be devoted to the scriptural support for the Vision statement. There will also be a congregational meeting immediately following the service on September 26 for you to ask any questions you have about the Mission, Vision, Values once you've had the chance to consider them at greater length.

Church Potluck
As we work to be present in our community we must learn who our neighbors are. Please join us after service on Sunday, Sept. 26 to hear Miguel Rivera share his experience as a Hispanic in Siloam Springs and get us thinking about how we can continually strive to be better neighbors.

During this time we will share an outdoor taco lunch. Please sign up to bring something to our potluck.

Helping the Greuel and Bradford Families
We have two opportunities to serve the families of FPC.

The Greuels are preparing to move and could use a hand packing up on Thursday, Sept. 16.

The Bradfords welcomed their new baby last week and have requested meals over the next few weeks. 

Sign ups for both can be found in the weekly email or requested from the church office (info@fpcsiloam.com).

Family Gathering
The Family Gathering will resume outside on Wednesday, September 15, 6-7 p.m. This is a family-centered, Bible story based discipleship experience recommended for families with 4th graders and below, including Pre-K. Families will sit together, learn the story as a large group, then dig into it as a family unit with fun activities, crafts, and thoughtful questions. Don't worry, we'll provide everything you need, including an easy to follow guide for Family Group Time. Just bring your lawn chairs or a blanket.

Evening Office
The Evening Office is a service of prayer, Scripture, and Sacrament for adults and kids (5th—12th grade) every Wednesday beginning September 15 from 6-7 p.m. at the church. We will meet on the East lawn. 

Sunday School Outside
Sunday School classes for all ages have begun! Join us at 9:00 a.m. for short 30 minute discussions and lessons. Donuts served before the 10:00 a.m. service.

Children 4th grade and below will need to register at fpcsiloam.com/register or at the check-in kiosk.

Youth Group
Youth Group for students 5th-12th grade will meet at the Cowell's house from 4-6 p.m. for a pool party! Contact Dri for address and more information. 

Congregational Meeting
There will be a congregational meeting immediately following the service on September 26 to approve the nominees for Ruling Elder to serve on Session beginning January 2022 and for a time of questions about the Mission, Vision, and Values.